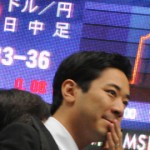 Like it or not forex trading business risk is very high. Most traders must have lost money. And worse, not only the capital loss suffered but will also be wiped clean if not very clever to take advantage of leverage.
To become a successful forex trader, trading suppose looking like a business in general. That is, the benefits still requires a process and time. Capital may not $ 50 you invest in your forex account increased to $ 20,000 in an instant. It is likely to remain there, but very few people are lucky like that. So do not rely on luck.
One of the advantages of forex investing is you can borrow as much money as you like from the broker to use this leverage facility. However, it is important to remember that borrowing money to trade will not only increase profits, but will also increase your losses. There is no universal rule to declare how much to borrow. Many new traders try to borrow more funds, if possible. And of course, it depends on the type of strategy used.
If you have a $ 10,000 trading account, most brokers will direct you to open a position with a minimum value of $ 500,000. If you buy a pair of the USD, the ratio is 50: 1. Position size is 50 times the size of your account.
Many new traders start with a small account balance. The same principle can be applied to a $ 100 account trading for $ 5,000. The position of the minimum allowed by the broker generally $ 10,000, but they still can provide tolerance for traders to open an account with $ 100.
Brokers do not mind giving loans because they know that 99% of clients who do this will be a loss. It is indeed true and realistic attitude and a real happening.
Treat forex as if a business. What goal? Another not to have a realistic attitude. Compare with the stock market or mutual funds. The average profit of the two types of investment is less than 10% per year. If you can make 30% per year on forex trading, it is higher than the stock or mutual fund! But, do not expect to generate $ 1,000 per month from your account that is only worth $ 100. This is almost certainly not going to happen, and ultimately went bankrupt.