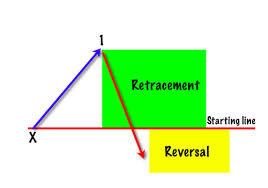 Have you ever been in a situation where it looks like prices are likely to continue to move upwards (uptrend / uptrend) and you are getting ready to install a long position (buy orders), but what happens then is the price rebounded down and getting down?
This Situation may occur when the trader is not aware of the difference between retracement and reversal. Instead be patient and follow the downtrend (a downtrend) as a whole, traders believe that the case is a condition retracement so put a buy order.
In this article, you will learn the characteristics of a retracement and a reversal in forex trading, how to recognize it, so it is not wrong in determining the real market conditions.
What is Fibonacci?
Fibonacci price movement can be defined as the reverse direction for a while against the trend. Another way to see this is to look at the price movement area that moves against the trend but then returned to continue the trend.
What Is a Reversal?
Reversal is defined as the change in the price of the reversal of the overall trend. When turning to the uptrend downtrend, reversal occurs. When downtrend turned into an uptrend, a reversal also occurred. Using the same example above, the form of reversal can be described as follows:
What Should You Do?
When faced with the possibility of retracement or reversal, you have three choices:
When you have put the position, you can continue to hang on to your position. This can cause you to lose (loss) if retracements turned out to be a long-term reversal.
You can close your position and re-enter when the price starts to move in the direction of the overall trend again. Of course there is the possibility of loss of trading opportunities when the price suddenly moves sharply in one direction while you do not have time to install position. If you decide to re-enter, you will be charged a spread of more than one time.
You can close your position permanently. This could lead to a loss (if the price moves against you) or large gains (if you cover when the price is at the level of the top or bottom).
Since reversal can occur anytime, determine which is best is not always easy. That is why using a trailing stop loss can be a good way to manage risk when you use a trading strategy to follow the trend.
You can use a trailing stop loss to ensure profits stay where you can always get the number of pips though the situation is a long-term reversal.